India has the second-largest population in the world and the largest number of people living below the international poverty line. Therefore, there is a tremendous need to create other ways to fill the gaps in the existing structure and also a great opportunity in specific sectors and innovative solutions.
The country has a very promising economy, but due to its size, natural characteristics, rapid industrialization, urbanization and population expansion, sustainability is a challenge.
India faces a drastic scarcity of resources, but undoubtedly the most alarming is water, with many polluted and even toxic rivers. More than 600 million Indians face acute water shortages. Bangalore and New Delhi are among the 21 cities in the world that can drain their groundwater in a very short time. Some of the poorest areas need investments in basic sanitation structures and the treatment of liquid and solid waste to ensure safe drinking water.
The water crisis also puts food supplies at risk, as wheat and rice-growing areas face extreme water shortages. And is an even greater risk to health. Despite the numerous measures taken by the government and local communities, more than 75% of families do not have drinking water, and about 200,000 people die every year for lack of access to safe water.

The EU-India Innocenter supports Startups from different sectors at all stages of their journey to India and is a reliable and safe way to unite European solutions to the opportunities and needs of the Indian market.
As part of the programme, the EU-India Innocenter Partners – Juliane Frommter & Prateek Jain interviewed Ganesh Shankar, founder and CEO of FluxGen Technologies about the Indian water crisis and opportunities for European companies.
Ganesh works in Digital Water Management for industries and reiterates that India is going through the worst water crisis in history, it is further catalysed by climate change, and Indian Industries are at high risk, especially in water stress regions. The highlights of the interview are below:
What do you think are the biggest opportunities for European Startups to add value in this Sector? What are the growth trends of this industry?
India is a cost-sensitive market and also a market for scale. The biggest opportunity is in the Smart Cities project as it's a very ambitious project. Water management is a key component in Smart Cities. Proven low-cost non-contact water quality sensors are in huge demand. Sensor technology that addresses the needs for water monitoring will be very helpful at this point. I see that as the biggest opportunity. 
Twenty-one major Indian cities are expected to run out of groundwater according to NITI Aayog report (Government Think Tank). With that, new regulations have been enforced on groundwater extraction. The water management market is opening up because of the mentioned regulation by Central Ground Water Authority. Also, the pollution control board has made zero liquid discharge mandatory for Industries, which further opens up opportunities in Water Treatment Technologies.
Covid 19 timing has also someway exposed our vulnerability with the water crisis. While we are dealing with water shortage, we now have to spend additional water for hygiene reasons. Also, water being a carrier of various viruses, Covid is no exception – this has only led to more anxiety.
What are the biggest challenges you foresee European Startups may face while entering this sector in India?
Though over the years ease of doing business in India has improved, India still has a lot of room for improvement. The socioeconomic and socio-cultural differences between India and Europe requires a time investment to do business. The cost viability of the product can be achieved in India through scale if not economics may not work
The extent to which the water crisis is going on is not converted to opportunity due to business-as-usual mentality is prevalent. The customer being educated about the risks associated with water has not been established. Government regulation is still taking time to execution – this needs to be fastened. 
Any thoughts on the Indian Government's role in supporting the foreign companies to set up in India?
India today has a very good Startup policy that encourages home-grown Startups to build in India and sell worldwide. This is an excellent opportunity for the European Startups to collaborate, co-innovate, co-create with Indian Startups to deliver a global solution because what is developed in India and for India can potentially handle the scale to work for the global audience as well, though I must say not necessarily it works all the time.
Compared to a decade back when it used to take months to set up a company for a foreigner, it's now hardly a week or two to do one. 
Would you like to share your experience about establishing your business in India?
It has been a great journey so far, as I like challenges. India is a complex country because of the diversity, which also makes it exciting. It takes time for a new solution for market adoption, but it also offers scale if the solution can really cost-effectively solve the problem. Government push for Startups has been pretty effective and also the new narrative of entrepreneurship as a viable career option for someone coming from a non-business family has helped in breaking the social barriers and myth towards starting up.
Any piece of advice/tips to European Startups expanding to India?
Partnership with an Indian entity can help in fastening the whole business process. As per the B2B market, association with Indian Startups having on-ground solutions can help in reducing the customer acquisition cost and also to fine-tune the solution for Indian conditions. Sector focused Startup accelerators can play a very important role in product-market fit and Go to Market. 
Tell us more about your work with The Sustainability Mafia and how your network may help European Founders. Where can people read more about it?
The Sustainability Mafia (legally 'Sustainability Engine Foundation') is a not-for-profit organization. That since January 2020 we have been building a community-first ecosystem for climate action and sustainability!
Our vision is to "make sustainability the default choice by 2025" and to "make India the engine of the World's sustainability solutions by 2030".
Our ecological crisis is the most dominant problem of our times, and we are committed to providing powerful solutions that will help partially mitigate this urgent crisis. 
The European Startups can collaborate with the solution providers of Susmafia to strengthen the offering of the companies. More information can be found in SusMafia.org
I'd also like to share a post that I have written for World Water Day 2021. The intention of the post is to demystify the urban water crisis in India, exploring the reasons why industries, in particular, are exposed to massive and imminent water-related risks. FluxGen has worked with leading industries and corporates for more than three years, not only addressing these risks but creating economic value through an understanding of the "true" cost of water to industries from a holistic perspective. You can read it here.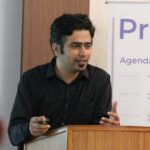 More about Ganesh Shankar:
Founder and CEO – FluxGen Technologies
Founder – The Sustainability Mafia 
Adjunct Faculty at CCE, Indian Institute of Science
The EU-India Innovation Center will train around 500 European Startups and offer them the opportunity to launch and expand their activities in India, supporting every step of their journey – from discovering business opportunities to creating a strategic local network
Apply for our next programmes, be a part of this community and have access to a select group of internationalisation specialists, deeply engaged in the Indian and European markets, ready to take you to new levels of business.
__________________________________________________________________________________________________
Text: Roberta Mellis – Pictures: Pixabay  and Ayush Srivastava on Unsplash